kee@motor-service-asia.com
Mobile: +6012 217 50 69
In our continuous effort to serve our customers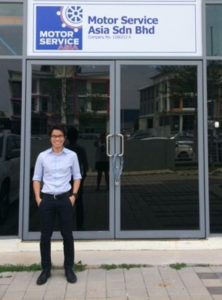 globally, Motor-Service Sweden AB has established a second office & warehouse in Asia, namely Motor Service Asia Sdn Bhd.
Located 27km south west of Kuala Lumpur, Malaysia, the strategic location gives close access to both Port Klang, the main gateway by sea into Malaysia and Port of Singapore, currently ranked as one of the busiest port in the world.
With an office and warehouse built-up area of approx. 800sqm, Motor Service Asia Sdn Bhd carries a sizable inventory of the most common wear and tear parts with continuous stock replenishment from Sweden. Its focus will also be the same supply as from Motor-Service Sweden AB, mainly to serve customers located in the Asia region. By being close to our customers, delivery time can be reduced significantly and with the added convenience of having a stockist "nearby", our customers' needs can be met promptly.